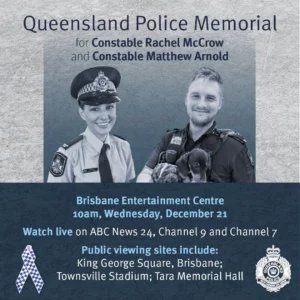 Members of the public wishing to honour fallen police constables Rachel McCrow and Matthew Arnold can attend the memorial service at the Brisbane Entertainment Centre on Wednesday December 21.
They can also watch the Queensland Police Memorial live on TV or at dedicated public sites across Queensland.
Strict security arrangements and ticketing seating are in place at Brisbane Entertainment Centre.  Tickets are available through the Ticketek website.
Broadcast arrangements
The memorial service will be televised live via Channel 9, 7 and ABC News 24 from 9.30am.
A livestream will also be available on the Queensland Police Service Facebook page.
Public memorial locations
Members of the community can pay their respects and watch the televised coverage of the memorial at the following sites:
Brisbane
King George Square, Brisbane City from 10am
Central District
The Alpha Town Hall, Corner of Dryden and Tennyson Street, Alpha from 9.45am
Queensland Police Memorial at Cameron's Corner (adjacent to Rockhampton Police Station) 161 Bolsover Street, Rockhampton from 10am
Mackay District
Mackay Entertainment and Convention Centre, Alfred Street Mackay from 9.20am
PCYC Bowen, Corner Hay Street and, Queens Road, Bowen from 9:45am
South West District
Dalby Events Centre, 54 Nicholson Street, from 10am
Chinchilla Country Hope Church, 3 Burbank Street, from 10am
Tara Memorial Hall, Day Street, from 10am
Miles William Miles Hall, Leichardt Centre, 29 Dawson Street, Miles from 10am
Townsville District
Townsville Stadium, 40-48 Murray Lyons Crescent, Annandale from 9:30am